A software marketplace is an online platform where developers, vendors, and organizations can showcase, distribute, and sell their software applications, tools, and services. These marketplaces often cater to various industries and categories, such as productivity, project management, data analytics, marketing, design, and, of course, software software software.
You can visit the marketplace to browse comparative offerings and purchase software that satisfies your business needs and requirements, at a price that is within your IT budget. Many software marketplaces offer user reviews, ratings, and support resources as well, to help you make informed decisions.
In this blog post, we will take a deep dive into the software marketplace provided by the cloud infrastructure provider DigitalOcean.
What is the DigitalOcean marketplace?

The DigitalOcean Marketplace is an online platform developed by DigitalOcean, that offers a variety of pre-configured and ready-to-deploy applications and development stacks. These applications can be quickly installed on DigitalOcean's cloud infrastructure, which includes Droplets (virtual machines) and Kubernetes (container orchestration).
The marketplace can be categorized broadly into four categories :
Developer tools: the category contains a wide range of applications that developers can use to optimize their workflows and automate repetitive tasks. These tools include GitLab, Jenkins, Ansible, Terraform, and more.

Web applications:

there are popular web applications such as WordPress, Ghost, and Drupal that make it easy for users to build and manage their websites.

Databases:

the marketplace has popular databases such as MySQL, MongoDB, and PostgreSQL for data storage and management.

Monitoring & Management:

In this category, there are well-known tools including Grafana, Datadog, and New Relic. They have been widely used by companies to monitor and manage applications.
The software provided in the marketplace is not developed by DigitalOcean, but provided by third-party vendors only.
Searching and navigate through various applications in the DigitalOcean marketplace

The DigitalOcean marketplace is conveniently organized into Categories and Use Cases. There is also a section for Vendors.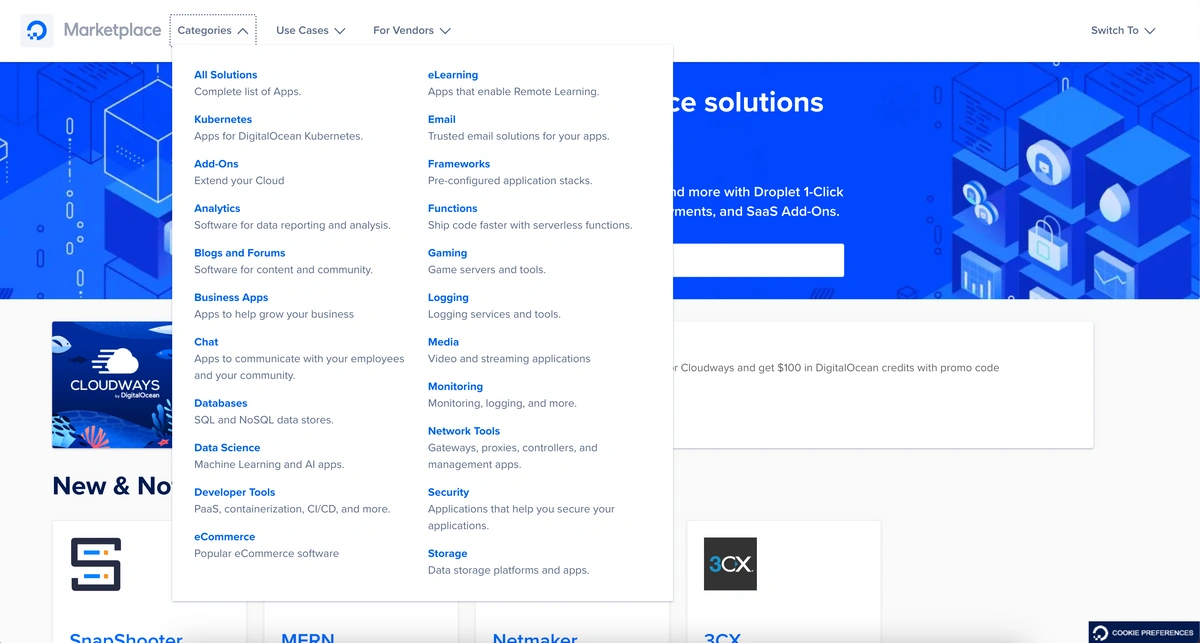 Go to the DigitalOcean Marketplace.
Use the Search bar at the top of the page to search for specific applications. You can enter keywords related to the application you are looking for.

Browse the categories listed on the homepage to find related applications.

Click on an application to view its details page. On this page, you can find information including description, price, reviews, and ratings.

If you want to use the application, click the Create Droplet button to deploy the application on your DigitalOcean account. You can also choose the plan and the region you want to deploy the application on.

Follow the prompts to complete the deployment process.
You will notice that these applications offer a 1-click install. Integration does not get simpler than this!
What is a droplet?
A droplet is DigitalOcean-speak for a cloud virtual machine. At a minimum, Droplets can have 1GB of RAM and a single CPU and these specifications can be increased as you need. You can scale up and down the resources of Droplets in a few clicks. This flexibility lets users control the cost and avoid unnecessary expenses.
Droplets can be spun up quickly, allowing developers to deploy and scale their applications as needed. They are designed to be user-friendly so that even non-technical people can launch a server and start their projects aptly.
One of the notable features of DigitalOcean Droplets is load balancing. Load balancers can distribute inbound traffic across multiple Droplets, which can reduce the risk of overloading any Droplet. This makes sure that your applications run continuously and reliably handling a large amount of traffic. DigitalOcrean's load balancers are highly customizable and configurable. You can integrate them with DigitalOcrean's cloud firewall to add one more protection layer.
You can find more about droplets here.
DigitalOcean Marketplace - For vendors
Software vendors can get listed in any one of three categories in the DigitalOcean Marketplace - Droplet 1-Click Apps, Kubernetes 1-Click Apps, and SaaS Add-Ons. You can find a list of vendor resources available here. There is also help available with creating your first marketplace listing.
Security and compliance
Security and compliance are critical aspects of any business. So of course, any discussion on of the DigitalOcean Marketplace is incomplete without talking about its monitoring and alerting tools. You can find a complete list of Security offerings available on the DigitalOcean Marketplace here.
As a company, DigitalOcean complies with various data protection and privacy regulations such as GDPR, HIPAA, and SOC 2. The company has also earned security certifications including ISO 270001 and PCI DSS.
Resources - Docs, Support
DigitalOcean has extensive product documentation available if you are looking for help with their offerings portfolio. This includes Compute, Storage, Managed databases, Containers and Images, Networking, and Management. Documentation for the software listed on the marketplace is available in the websites of the vendors. You do have a quick overview of details including pricing and support in the marketplace listing itself. This is what the Packagecloud listing looks like, for example.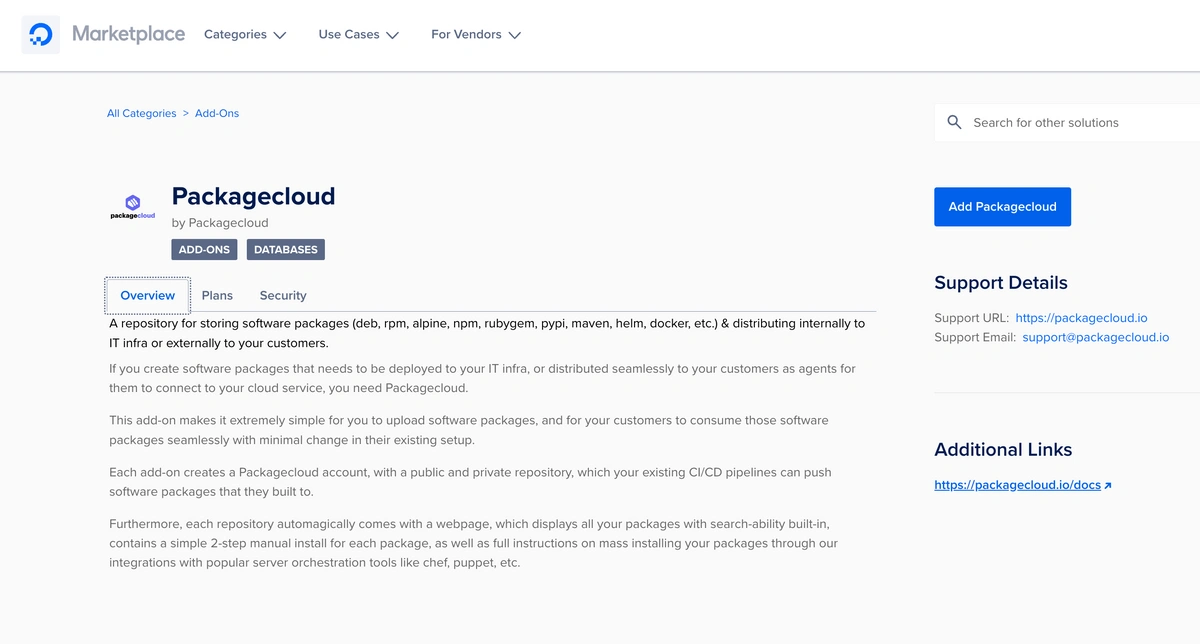 You can find Support for DigitalOcean here. Support for the software listed in the marketplace is provided by the respective vendors.
Some other resources you may find helpful are the DigitalOcean Tech Talks, and the various events and hackathons organized by the company. Keep an eye on their website as well as social media to see the announcements.
To sum up
The DigitalOcean Marketplace serves as a comprehensive hub for software solutions, offering a variety of pre-configured and ready-to-deploy applications and development stacks. Catering to diverse industries and use cases, the marketplace simplifies the software discovery and deployment process, providing access to tools and services that can optimize workflows and enhance productivity.
Whether you are a developer, business owner, or IT professional, DigitalOcean Marketplace's user-friendly interface, extensive vendor support, and robust security and compliance features make it an excellent choice for your software needs. By offering a one-stop destination for various software applications, DigitalOcean helps businesses streamline their operations, making it easier than ever to find and deploy the tools needed to drive success in today's competitive market.
(Images courtesy: DigitalOcean)